School Principal - Nicholette Moone
BA (HONS), RTS, ARAD, LRAD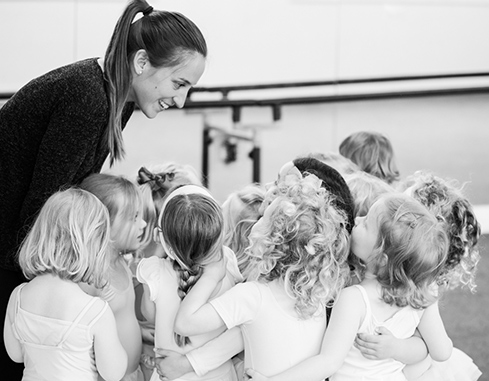 Nicholette auditioned and gained a place at the Royal Academy of Dance, London and graduated in 2007 with a first class honours degree in Ballet Education. Whilst a student she achieved her vocational Advanced Two examination and was invited to become an associate member of the Royal Academy of Dance. She then went on to achieving the academy's licentiate award as part of an extensive teacher-training programme, providing in-depth knowledge of the RAD syllabus. Nicholette holds Registered Teacher Status (RTS).
Since her graduation, Nicholette has enjoyed teaching ballet and dance to children and young people of all ages in the UK and overseas. In September 2008, she applied and was awarded the role of senior ballet teacher at Somerset School of Dancing in Bermuda. Here she coached and trained students to a pre professional level. Nicholette is proud to have maintained a 100% success rate for all her pupils entered in RAD examinations. She has also choreographed for numerous dance events and shows including productions at the Bloomsbury and Tabernacle Theatres in London.
With a wealth of experience and passion, Nicholette encourages teaching with abundant energy making Moone School of Ballet a warm and inspiring place for young dancers!
Candida Myers
RAD CBTS RTS
Candida began her dance training at the age of 3, in the Middle East, where she received distinctions in all Royal Academy of Dance graded syllabus examinations. Then, after successfully auditioning and gaining a place at Legat School of Dance, Candida moved back to the UK for further vocational training in a variety of dance styles.
Candida went on to study the Certificate in Ballet Teaching Studies with the Royal Academy of Dance whilst studying BSc Economics & Management at King's College, London. Having recently graduated from the RAD, Candida is delighted to be able to share her love of dance with her students at Moone School of Ballet and hopes that her students enjoy her classes as much as she loves teaching them.
Sarah O'Connell
ARAD PDTD
Originally from East Sussex, Sarah studied at the Legat School, before joining Ballet West in the Scottish Highlands for the remainder of her training.
In 2004 she joined Ballet West as a soloist dancer and teacher in their touring company.
Her dance career then took her to London where she danced professionally with companies like Birmingham rep the Royal Operah House, Welsh Ballet, Glyndebourne, Gandini Juggling and many more.
Alongside her self employed dance contracts she has been lucky to teach for various Ballet schools around London.
Sarah was awarded her Professional Dancers Teaching Diploma with Distinction in 2019.
Imogen Browne
Imogen was born in Melbourne, Australia where she trained in ballet, contemporary and jazz at the Gay Wightman School of Ballet. She won 1st place Australia wide with Honours in the BMAAD Intermediate and Advanced ballet exams. In 2011 Imogen was an apprentice with Melbourne Ballet Company where she performed for Clinique and with Deakin University Motion Laboratory as a trainee.
After completing her high school diploma she accepted a position at the Joffrey Ballet School, New York in their full time trainee program commencing in 2012. Her highlights include performing the roles of the Ugly Step Sister in Cinderella, Arabian Princess in The Nutcracker, Big and Little Swan in Swan Lake and also as a soloist in Gerald Arpino's Birthday Variations.
Since graduating Joffrey's program with majors in teaching, choreography and performance, she has worked with Ballet Popular and performed in their first performance as a company presenting the Manon pas de deux. She then went on to spend a year as assistant director at the Joffrey Ballet School for their performances of The Nutcracker and Sleeping Beauty. During that time she also performed with Mei/Co directed by Meggie Pinones in The Hatch Series and for the Microsoft Corporation at their 5th Avenue, New York, Flagship Store.
Imogen moved to London to pursue her love of ballet and is looking forward to sharing her international knowledge with the next generation of dancers.
She has also recently completed her Progressing Ballet Technique teaching certificate.